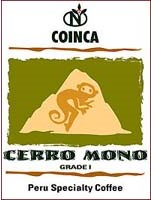 | | |
| --- | --- |
| Country | Peru |
| Region | District Perené, Department Junin |
| Altitude | 1.100 – 1.400 meters above sea level |
| Harvest period | May through August |
| Annual production | 345 metric tons or 5.000 original bags in average |
| Taste characteristics | Full body and cup with intensive aroma and a pronounced acidity |
| Visual characteristics | Large flat bean, close cut, dark green and 75% over screen 17 |
| Coffee type | Arabica, washed, machine-dried |
| Special varieties or types | Typica, Pache, Caturra |
Description
In 1958 a group of jobless miners followed the Perené rivers looking for a new place to settle. The fertile land extension and crystal clear waters convinced them to make San Juan Ubiriki valley as their new home. They did not have any knowledge about cultivating coffee back then, but natives taught them.
Then in 1965 a group of farmers made their way through the jungle into the highlands. After a long walk they saw far in the distance at the top of a mountain range a peak in the shape of a big monkey head. They named it "CERRO MONO" and from this day on the whole area became known as such.
Over the years farmers noted that among other crops their coffee trees produced better-sized and more intensely coloured fruit than the ones from lower altitudes. The tropical microclimate that engulfs the area provides for optimal growing conditions for the coffee tree.
As one of the founders of CERRO MONO said: "Gold can not only be found in mines, it also grows on coffee trees".